Books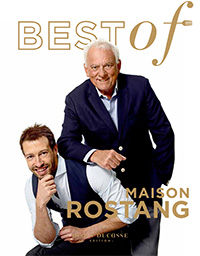 Best Of Maison Rostang
Authors : Michel Rostang et Nicolas Beaumann
Publisher : Alain Ducasse
Release date : 3 novembre 2016
Price : 14€
Description : The very best of Maison Rostang restaurant in 10 recipes. An illustrated step-by-step cooking course with hints and tips, to help you create dishes like those 2 great chefs !
Michel Rostang, the historic chef, and Nicolas Beaumann, the restaurant's current chef, compose French cuisine that pays tribute to tradition and proudly asserts its contemporary connections, like a dialogue between the classical and the modern eras.
Buy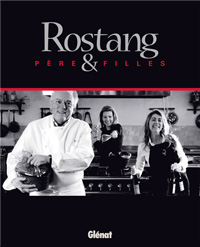 Rostang père&filles
Authors : Michel Rostang et Jacques Caillaut
Publisher : Glénat
Release date : december 2010
Price : 39€
Description : Through 72 recipes, discover the story of the Rostang empire. The story of a Michelin double stared restaurant but also the never-ending story of a family, full of memories, friendships and terroir. The chicken from « Bresse » region, the asparagus from Pertuis, the pralines from Saint-Genix, the omble chevalier fish, the baby perchs from Annecy's lake… Being with the Rostang seems like playing a gourmet Snakes and Ladders, except you always come across the right square.
Buy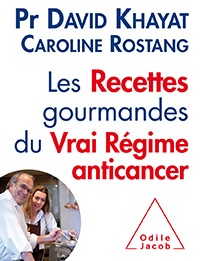 Les recettes gourmandes du Vrai Régime anticancer
Authors : David Khayat et Caroline Rostang
Publisher : Odile Jacob
Release date : april 2011
Price : 21.20€
Description : "I wrote this new book to give you the means to each day implement this real anti-cancer diet, a customised eating strategy, in order to prevent this terrible illness. As an oncologist for 30 years, my goal is to give prevention a chance. Why do we would have to deprive ourselves of a sane love of goog food when we speak about anti-cancer recipes ? With my friend Caroline Rostang, we have decided to prove you otherwise. Here are 102 gourmand recipes of the real anti-cancer diet for everyone, created specially for you, in view of being simple, in the recipes as in the search of good products. You will see that when preparing yourselves these recipes, as i did it myself during the wrinting of this book. So "bon appétit" and good health !"
Pr David Khayat
Buy